What distinguishes TRAPMASTER Professional from other trap alert systems? The 7 unique features of TRAPMASTER Professional.
TRAPMASTER Professional has been specially developed for demanding applications in large areas and nature conservation projects. It differs in several points from all other currently available trap alert systems.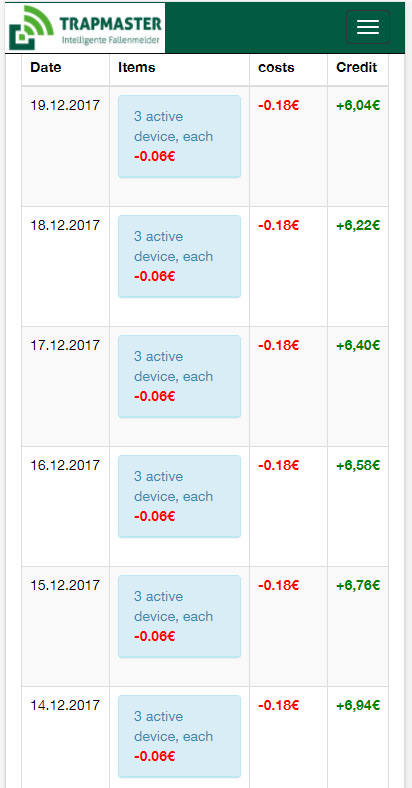 In addition to the special advantages already offered by the TRAPMASTER Classic (e.g. special rechargeable batteries, dual-use sensor), the Professional version also offers you a number of impressive unique features that currently no other devices in the market have:


Super-simple SIM card and cost management

TRAPMASTER Professional always includes a roaming SIM card with data flat (6 Cent / day)

Superior long-term reliability and future-proofing thanks to the SIM card in "eSIM" format and with protective lacquer

User-friendly online management of your traps

Fall-back mode (SMS) for emergencies

Maximum data security thanks to encryption

Simple and user-friendly fellow hunter management
1.) Super-simple SIM card and credit management, full cost transparency
With the TRAPMASTER Professional, there is no longer any credit on individual SIM cards necessary. Credit is maintained centrally in your online administration system (Credit tab).
Traditional SIM cards (German Telekom, Congstar, Vodafone, O2, etc). usually require a regular minimum charge, i.e. a minimum turnover, regardless of how much you have actually used. This is not the case with the TRAPMASTER Professional SIM card! Only the cost for the real use is charged (daily exact!). You can see the exact costs incurred in your user account.
Your advantages:
Significantly less time and administrative effort because you no longer have to worry about the time-consuming administration of individual SIM cards.
SIM cards can no longer simply be "expired" or blocked by the provider because you have not fulfilled a required regular minimum charge.
There is no annual minimum charge. You pay only what you have actually used.
2.) A multi-network roaming SIM card with real "non-steering" data roaming for optimal data transmission is always included
Selecting the right SIM card is a big headache for many customers:

Which network operator should be selected?
To buy a prepaid card or a monthly contract?
How to remove the PIN from the card?
How to load credit?
The TRAPMASTER Professional takes away all these worries. A SIM card is always included.
In addition, the card is a multi-network roaming card with a low-cost data flat which works internationally with all network operators and selects the best provider for each transmission. In the field the reliability of a roaming SIM card is significantly superior to normal SIM cards.
The PROFESSIONAL trap alert system goes even one step further. Unlike many other roaming cards, the TRAPMASTER SIM card selects the respective network operator based on the quality of the data connection (rather than on the basis of the pure signal strength).
In practice the optimum reliability is achieved.
Your advantages:
You save time and spare your nerves, because you do not have to worry about the selection and procurement of a SIM card with a suitable tariff.
You do not have to activate the SIM card yourself, or remove the PIN using an old mobile phone.
The device is always working with the current best network at the trap site. For you, this means the best possible reliability of monitoring your traps at all times.
3.) SIM card in the "embedded" format: Corrosion protection for optimum operational safety (plus theft protection) with protective lacquer and integrated roaming SIM card in TRAPMASTER Professional

Contrary to other devices, the TRAPMASTER Professional has an integrated roaming SIM card in the "embedded" format.
This solution has the great advantage that the contacts between SIM card and electronics can never corrode compared to conventional SIM cards, which have to be fitted into SIM card holders during commissioning.
The integrated SIM card is – including all other electronics - additionally protected with a special protective lacquer against moisture and weather influences.
In addition, the SIM card cannot be used by unauthorized persons.
Your advantages:
Ideal long-term reliability (protection against corrosion / weather influences)
Anti-theft protection of the SIM card.
Future-proof thanks to eSIM technology.
4) Very intuitive online administration also for many traps
The most important function of an online administration system is to provide the user with daily clear overviews of the upcoming need for action: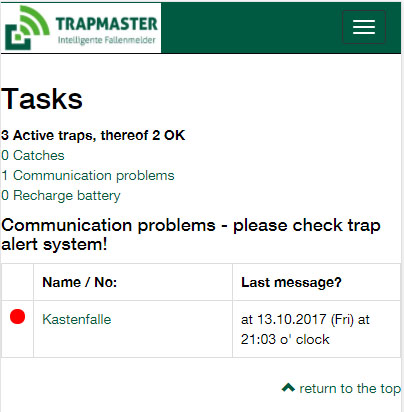 Where is a catch?
Have all trap alert systems reported? Which device may have communication problems?
Which battery is getting gradually empty and should be recharged?
At this point, however, conventional online administrations unfortunately have significant deficits. To make life easier for our users in the handling of these important day-to-day operations, the TRAPMASTER online administration offers a combined list of the current need for action in the "Tasks" tab.
Here you will have a clearer and more reliable overview of pending tasks than if you have to work through all devices and check them individually.
The complete list of devices is also available as a separate menu item.
Likewise, you can get combined status reports for all devices on request - these notifications also focus on the current need for action. Messages can be sent via e-mail, via an instant message with Telegram (both options free of charge) or via SMS (9 cents / SMS).
Your advantages:
Even with a lot of traps you always have the perfect overview. You will always know whether there is need for action or not.
Status reports are summarized for all trap alert systems by e-mail, free instant messages or via SMS. Because the "tasks" view also forms the basis for our status reports, you get the important information even without going to the website.
5) Fall-back mode for emergencies
There are two failure scenarios that a good online trap alert system must cover:
Even the best server can fail!
The telephone network or, in the case of the Professional, none of the networks available via roaming enable data communication. This can occur occasionally when the network is overloaded. Often, however, calls and SMS are still possible.
If a TRAPMASTER Professional cannot reach our server for one of these two reasons it will report directly to your mobile phone via SMS. Devices and servers always monitor each other in order to ensure the highest reporting reliability even in difficult environments.
Your advantages:
In the event of a malfunction of the server or of the mobile network, the monitoring does not stop suddenly. Instead, you receive messages by SMS directly to your mobile phone.
Even in the case of a server failure, trap monitoring is ensured at all times.
6) Highest data security thanks to HTTPS encryption
With TRAPMASTER Professional, all data connections (including communication between device and server) are securely encrypted. Your data is important and deserves the highest protection.
In contrast to the competitors, any communication in the TRAPMASTER Professional System is carried out exclusively via secure encrypted HTTPS connections (not HTTP).
The TRAPMASTER server is located in Germany.
Your advantage:
Your data is always protected against any form of attacks.
7) User-friendly fellow hunter management
Often, fellow hunters as well as the main hunter, have to take care of traps in in the same district and receive appropriate reports.
Thus, in conventional systems e-mail addresses or mobile phone numbers of fellow hunters can be entered. However, a fellow hunter then only receives "selective" information, e.g. catch messages by SMS or email. If he also operates his own traps, he receives additional notifications as a fellow hunter in addition to his own messages, usually at different timings. This quickly becomes convoluted and reduces the acceptance among the fellow hunters.
In contrast to this, each of the fellow hunters gets his own user account with TRAPMASTER Professional, in which he sees a single device list with history consisting of his fellow hunter devices (marked by symbols) and, if applicable, his own trap alert systems. Each fellow hunter can then set the preferred notifications & control times individually in his account accordingly.
Any number of fellow hunters are possible.
The main hunter decides who will be notified from which device by a click of the mouse. Everything else is then configured by the fellow hunters depending on preference.
Your advantages:
The main hunter is effectively relieved of administrative tasks (managing mobile phone numbers and e-mail addresses). This is particularly true for hunters with a larger district.
In regards to your fellow hunters, the acceptance of the system increases, especially through their own device list and individually configurable notification settings. The reliability of the trap monitoring in the team is growing.