Add your review
Review TRAPMASTER trap alert / trap alarm Professional Standard - in 4G/5G technology (+ 2G fallback)
TRAPMASTER trap alert / trap alarm Professional Standard - in 4G/5G technology (+ 2G fallback)
TRAPMASTER Professional
incl. use of free online management system
incl. e-SIM card with data flat rate and Updates "Over the Air"
incl. dual-use sensor (proximity switch or magnet) and mounting accessories, incl. rechargeable battery pack, without ba
5 - 7 working days.
Buy 3 for

€193,03

each and save

3%

Buy 5 for

€189,05

each and save

5%

Buy 10 for

€183,08

each and save

8%
The hassle-free solution for superior reliability and efficiency.
The Professional Standard version includes
free use of the TRAPMASTER online management system

incl. TRAPMASTER eSIM-card with data flat rate (5 Cent / day) with 5€ starting credit (Europe-wide)



incl. dual-use sensor (proximity switch or snap magnet) and mounting accessories.
incl. special rechargeable battery pack.
battery charger not included. To note: it is not necessary to use one charger per TRAPMASTER. One charger is sufficient for several units in operation
optionally with a guarantee extension to 5 years (please select via dropdown menu above)
dimensions: 125 x 82 x 75 mm
Version Standard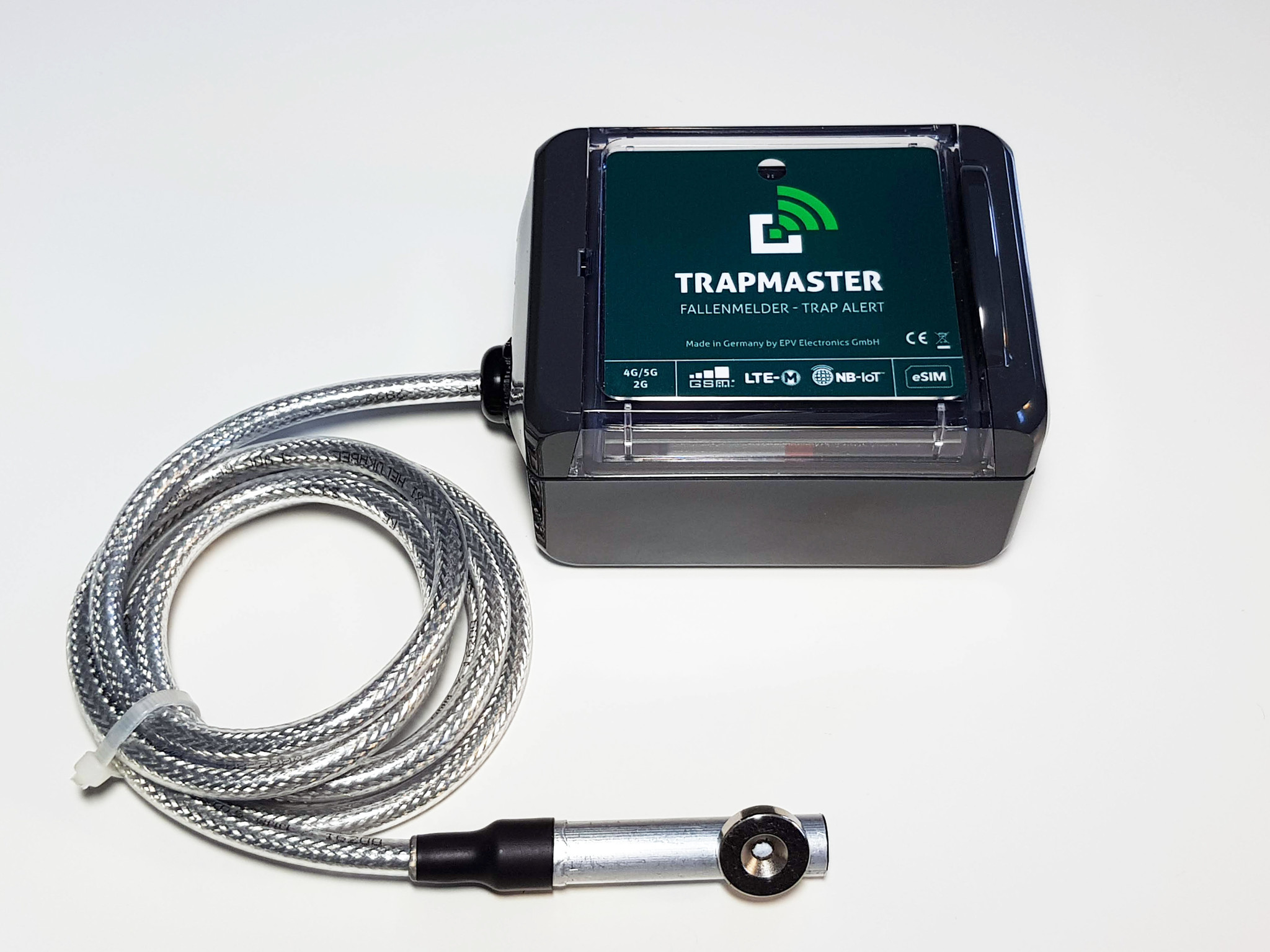 This is the popular & proven version with the dual-use sensor at a 1.60 meter long cable. This trap alert allows a simple and complete electronic monitoring of the trap up to the moving mechanical element (door or slide).
The dual-use sensor can be used as
a non-contact proximity switch (suitable e.g. for wooden box traps)

or as a pull-off contact (suitable for many concrete pipe traps).
Advantage 1: You can mostly do without the use of threads and metal strings, or keep them very short. This eliminates this source of error (a jammed or gnawed thread would otherwise result in the trap alert becoming "blind" -  which could result in undetected catches).
Advantage 2: The device can be installed hidden and protected - e.g. in a protective housing (see below). Short wastewater pipes with suitable end pieces (from a DIY store) or housings such as cash boxes are often suitable. Only the cable is then led outside. The device is well protected against theft and prying eyes. The trigger cable is designed to be almost bite-proof and protected against rodent bites. Should damage nevertheless occur, the trap alert evaluates this as a trigger and generates a wanted (false) alarm thanks to the electrical opening principle. This means that the trigger chain is always fully monitored. 
Advantage 3: When installed as a non-contact proximity sensor, the trap monitoring is always automatically activated when you reset the trap. Attaching the magnet can never be forgotten - no user interaction is required.
This version is particularly suitable for monitoring box traps and for certain concrete pipe traps without enclosure (sensor mounting on the slide of the concrete pipe trap). 
The TRAPMASTER Professional defines the new benchmark for trap alert systems in terms of reliability and user-friendliness. Some of its unique benefits are:
Free online administration system: overview, full transparency and clear task management – no matter if you are operating 1 or more than 200 traps. The online administration handles  all routine tasks for you. For example, you no longer need to check the status messages from each trap alert system. This is fully automated now.

You can tailor all notifications to suit your individual taste and preference:  Get them as Instant Message (via Telegram app) and/or E-Mail and/or SMS.

Receive only one summarized status message for all trap alerts.
A roaming SIM card is always included. For maximum reliability in daily operation and to save you the hassle of purchasing, configuring and maintaining SIM cards, the TRAPMASTER Professional always includes a roaming SIM card with a data flat. This card works with all network operators and always uses the best available network at the trap location.

User-friendly cost-structure: No minimum turnover, daily activation / deactivation and no  ongoing costs during the off-season. The data flat costs 0.05€ per day, regardless of how many messages are sent.

One central credit administration for all SIM cards. You no longer need to monitor and replenish individual credit balances on SIM cards. Credit is maintained centrally in your user account.
TRAPMASTER Professional is even easier to install than TRAPMASTER Classic.

Theft protection: a stolen TRAPMASTER Professional has no value for thieves. It cannot be operated by unauthorized persons. Possibility to locate your system.

Highest data security. All data connections are encrypted. The TRAPMASTER server is located in Germany.
A TRAPMASTER is the ideal retrofit for concrete pipe traps, box traps, tube traps and many other trap types.
0 Reviews
0 stars based on 0 reviews