Add your review
Review TRAPMASTER trap alert / trap alarm Professional Standard
TRAPMASTER trap alert / trap alarm Professional Standard
TRAPMASTER Professional
incl. use of free online management system
incl. Roaming SIM card with data flat rate
incl. dual-use sensor (proximity switch or magnet) and mounting accessories, incl. rechargeable battery pack, without battery charger.
1-2 days. Please note: credit orders will only be processed from Mon-Fri (not at the weekend).
Buy 3 for

€193,03

each and save

3%

Buy 5 for

€189,05

each and save

5%

Buy 10 for

€183,08

each and save

8%
The hassle-free solution for superior reliability and efficiency.
The Professional Standard version includes
free use of the TRAPMASTER online management system

incl. TRAPMASTER Roaming SIM-card with data flat rate (5 Cent / day) with 5€ starting credit (Europe-wide)



incl. dual-use sensor (proximity switch or snap magnet) and mounting accessories.
incl. special rechargeable battery pack.
battery charger not included. To note: it is not necessary to use one charger per TRAPMASTER. One charger is sufficient for several units in operation
optionally with a guarantee extension to 5 years (please select via dropdown menu above)
dimensions: 125 x 82 x 75 mm
Version Standard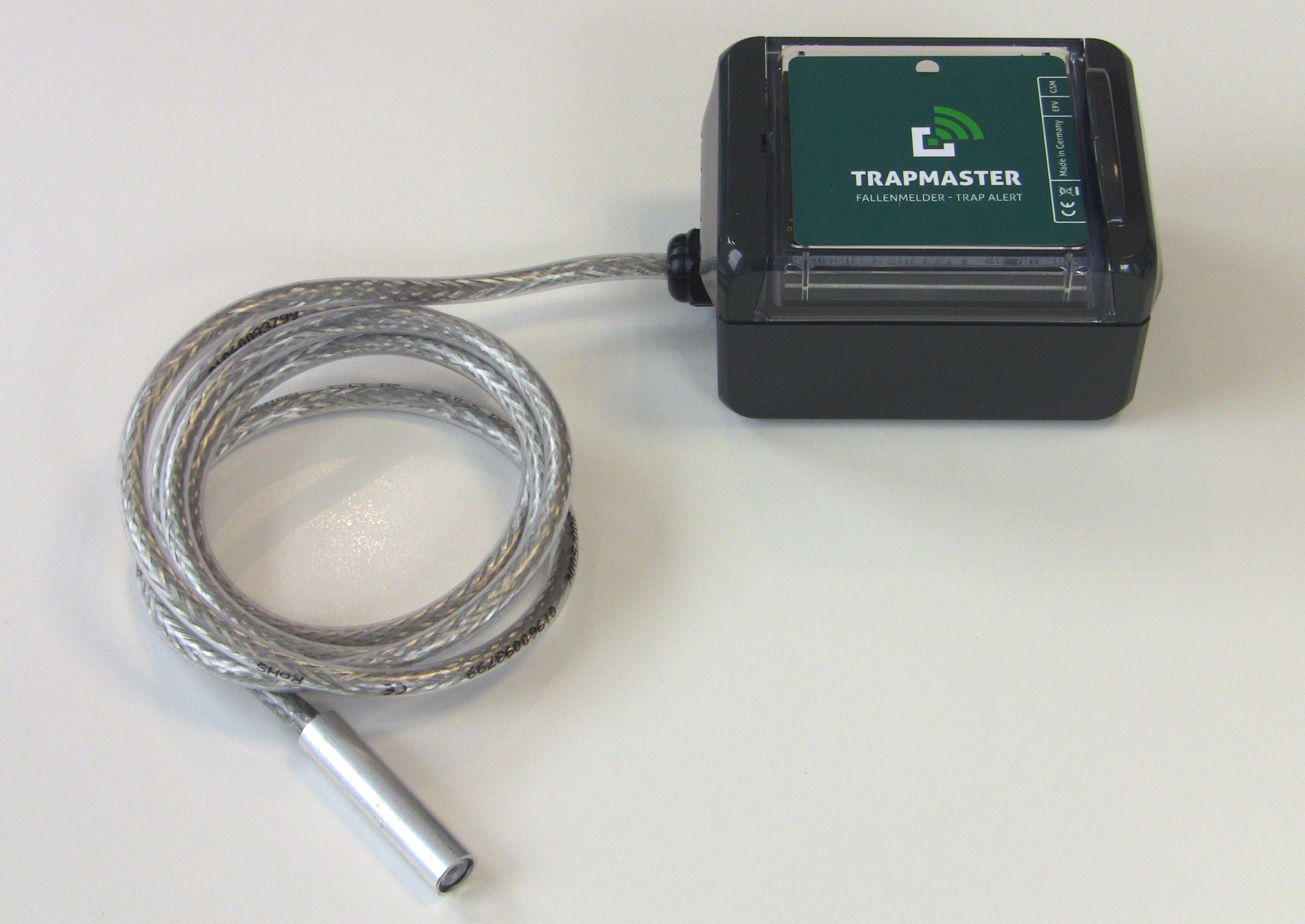 This is the popular & proven version with the dual-use sensor at a 1.60 meter long cable. This trap alert allows a simple and complete electronic monitoring of the trap up to the moving mechanical element (door or slide).
The dual-use sensor can be used as
a non-contact proximity switch (suitable e.g. for wooden box traps)

or as a pull-off contact (suitable for many concrete pipe traps).
Advantage 1: You can mostly do without the use of threads and metal strings, or keep them very short. This eliminates this source of error (a jammed or gnawed thread would otherwise result in the trap alert becoming "blind" -  which could result in undetected catches).
Advantage 2: The device can be installed hidden and protected - e.g. in a protective housing (see below). Short wastewater pipes with suitable end pieces (from a DIY store) or housings such as cash boxes are often suitable. Only the cable is then led outside. The device is well protected against theft and prying eyes. The trigger cable is designed to be almost bite-proof and protected against rodent bites. Should damage nevertheless occur, the trap alert evaluates this as a trigger and generates a wanted (false) alarm thanks to the electrical opening principle. This means that the trigger chain is always fully monitored. 
Advantage 3: When installed as a non-contact proximity sensor, the trap monitoring is always automatically activated when you reset the trap. Attaching the magnet can never be forgotten - no user interaction is required.
This version is particularly suitable for monitoring box traps and for certain concrete pipe traps without enclosure (sensor mounting on the slide of the concrete pipe trap). 
The TRAPMASTER Professional defines the new benchmark for trap alert systems in terms of reliability and user-friendliness. Some of its unique benefits are:
Free online administration system: overview, full transparency and clear task management – no matter if you are operating 1 or more than 200 traps. The online administration handles  all routine tasks for you. For example, you no longer need to check the status messages from each trap alert system. This is fully automated now.

You can tailor all notifications to suit your individual taste and preference:  Get them as Instant Message (via Telegram app) and/or E-Mail and/or SMS.

Receive only one summarized status message for all trap alerts.
A roaming SIM card is always included. For maximum reliability in daily operation and to save you the hassle of purchasing, configuring and maintaining SIM cards, the TRAPMASTER Professional always includes a roaming SIM card with a data flat. This card works with all network operators and always uses the best available network at the trap location.

User-friendly cost-structure: No minimum turnover, daily activation / deactivation and no  ongoing costs during the off-season. The data flat costs 0.05€ per day, regardless of how many messages are sent.

One central credit administration for all SIM cards. You no longer need to monitor and replenish individual credit balances on SIM cards. Credit is maintained centrally in your user account.
TRAPMASTER Professional is even easier to install than TRAPMASTER Classic.

Theft protection: a stolen TRAPMASTER Professional has no value for thieves. It cannot be operated by unauthorized persons. Possibility to locate your system.

Highest data security. All data connections are encrypted. The TRAPMASTER server is located in Germany.
A TRAPMASTER is the ideal retrofit for concrete pipe traps, box traps, tube traps and many other trap types.
9 Reviews
5 stars based on 9 reviews
07 May 2021
A.D.
"Nachdem ich vor ca. fünf Jahren mit dem Fallenmelder Xtreme und Minkpolice gestartet bin, habe ich zwischenzeitlich auf TRAPMASTER umgestellt, weil die anderen Melder mich mit ständigen Defekten und Fehlern in den Wahnsinn getrieben haben. Mit derzeit sechs TRAPMASTERN in Betrieb hatte ich noch niemals ein Problem. Zwei Akkus sind defekt, aber die Melder selbst sind tadellos. Vielen Dank dafür!"
22 Apr 2021
D.H.
Mitlerweile haben wir im Revier 6 Melder in Betrieb. Einer hatte Wassereinbruch, das wurde vom sehr freundlichen Team sofort, gratis und anstandslos repariert. Die Melder arbeiten sehr gut und der Service bei Trapmaster wird GROß geschrieben. <br />
Werde jetzt den 7. Bestellen.<br />
Waidmannsheil.<br />
D.H.
27 Nov 2020
Karsten S.
Ich habe inzwischen 3 Trapmaster. Für mich der beste am Markt. Ich habe zuvor Minkpolice getestet , hat mich nicht überzeugt. Er ist teurer als der Trapmaster und ich hatte oft Probleme mit dem Magnetkontakt . Trapmaster ist da wesentlich besser. Da hatte ich nur einmal ein Problem. Ich hab ihn eingeschickt und er wurde einfach und schnell repariert. Von mir klare Kaufempfelung
16 Nov 2020
Alexander K.
Dieser Melder ist äußerst zuverlässig! Die Mitarbeiter sind sehr nett!
22 Oct 2020
v. hungerborn
Die Fallenmelder funktionieren sehr gut, bin sehr zufrieden und kann sie nur weiterempfehlen! Erspart einem die tägliche Fahrt zur Kontrolle und spart dadurch Kosten.
05 Oct 2020
Hermann B.
"Wir können von unserer Jagdgemeinschaft die Trapmaster Fallenmelder nur weiter empfehlen. Es treten nur sehr selten Störungen auf.
Da zeigt sich dann der wahre Wert der Investition, denn bei EPV-Electronics gibt es, trotz Internetverkauf, ECHTEN Servive und das wirklich flott und absolut unkompliziert. Es erfolgte nach Mail Anfrage am Folgetag ein telefonischer Rückruf und unaufgefordert das Angebot für einen kostenlosen Tausch zweier Fallenmelder die mal gesponnen haben. Das nenne ich mal wirklich kundenfreundlichen Service der bei uns auch zur Kundenbindung führt.
Das gibt es meiner Erfahrung nach in der Gewinnmaximierungswüste Internet nur noch sehr selten. Bitte weiter so!!
18 Aug 2020
Lars S.
Funktioniert wie er soll, flexibel einzubauen. Bisher zuverlässig. Für Kofferfallen bevorzuge ich den neo - dann entfällt die Kabelverlegung und Magnetpositionierung. Shop und Kundenservice sind über jeden Zweifel erhaben. Ich fühlte mich bei Rückfragen schnell und gut beraten.
29 Jul 2020
Georg L.
Installation und Inbetriebnahme so einfach und so gut, wie man es auch von einem Produkt aus D nicht immer erwarten kann. Einfach toll!!! Die Software und die Darstellung auf dem I Phone ist sehr gut!
Funktion auch in schwierigen Revierlagen top! Alles sehr empfehlenswert.
29 Jul 2020
Martin W
Auch wenn der Preis hoch ist, so bekomme ich dennoch eine super Lösung.