What our customers say about TRAPMASTER: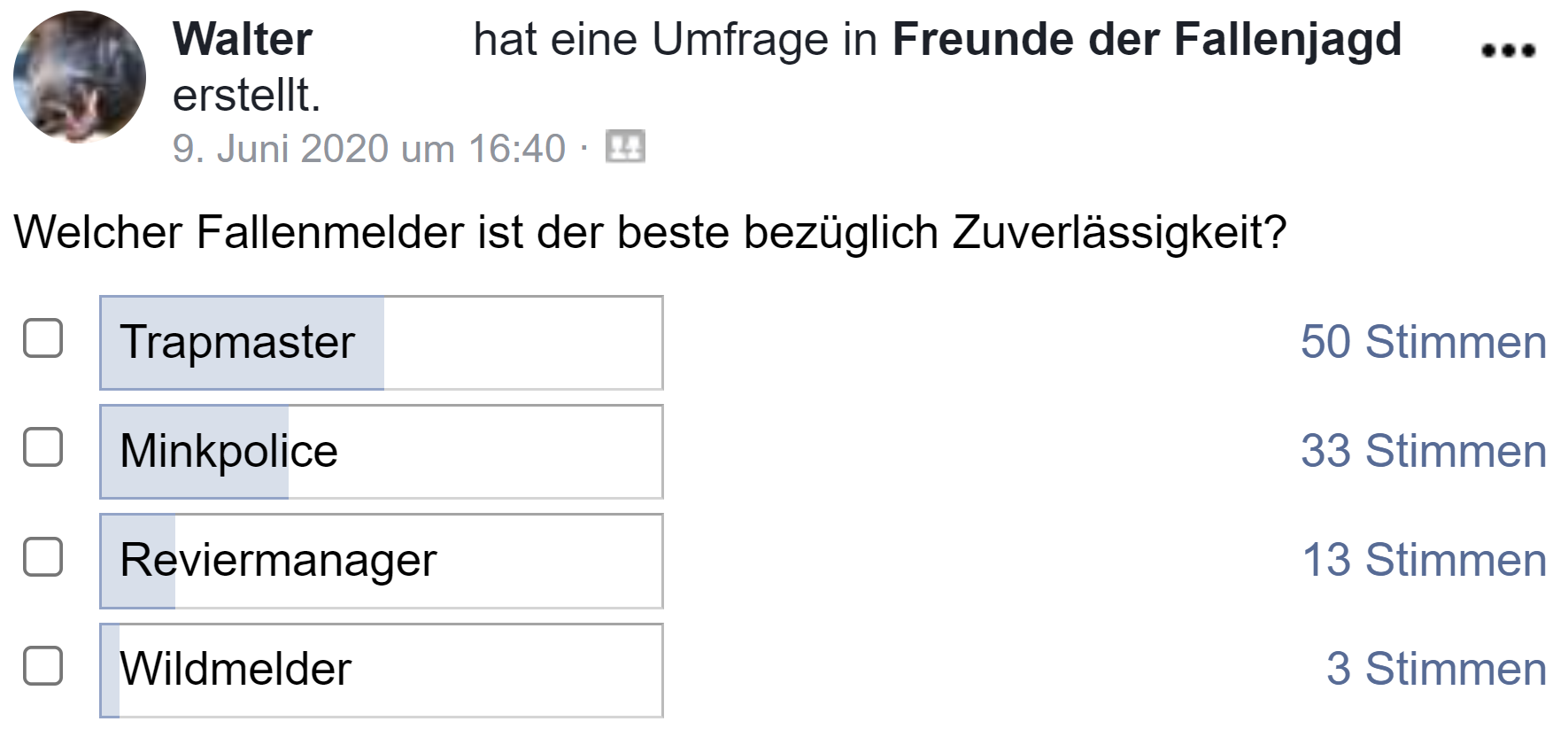 Walter created a poll on facebook: Which trap alert is the best in terms of reliability?
TRAPMASTER: 50 votes
Minkpolice: 33 votes
Reviermanager: 13 votes
Wildmelder: 3 votes
---
Hello Trapmaster Team! Your trap alert is really ingeniously made, a very good product! Controlling via app works so far, very satisfying! P.K.
---
Have bought from you three pieces Trapmaster, and installed. Am very positively surprised! Installation and commissioning so easy and so good, as you can not always expect even from a product from D. Just great!!! The software and the display on the I Phone is very good!
Function also in difficult precincts top! All highly recommended. Georg L. from Triefenstein
---
"After starting with the Xtreme trap alert and Minkpolice about five years ago, I have since switched to TRAPMASTER because the other detectors were driving me crazy with constant defects and errors. With six TRAPMASTERS currently in operation, I have never had a problem. Two batteries are defective, but the detectors themselves are flawless. Thank you so much for this!"  A.D.
---
I am very satisfied with the device. It works flawlessly, sends its status messages on time every day and alerts immediately when caught. A good and solid device. An unrestricted recommendation for new customers. - Dr. Peter M., Petershagen
---
I now have 3 Trapmaster. For me, the best on the market. I have previously tested Minkpolice, has not convinced me. It is more expensive than Trapmaster and I often had problems with the magnetic contact. Trapmaster is much better. I had a problem only once. I sent it in and it was easily and quickly repaired. From me clear purchase recommendation. Karsten S. 
---
Hello Trapmaster team, since the beginning of September I have a Trapmaster on trial from you and I am thrilled! G.B.
---
This detector is extremely reliable! The employees are very nice! Alexander K.
---
The trap detectors work very well, am very satisfied and can only recommend them! Saves one the daily trip to the control and thus saves costs. v. H.
---
"We can only recommend the Trapmaster trap detectors from our hunting community. Malfunctions occur only very rarely. This shows the true value of the investment, because at EPV-Electronics there is, despite Internet sales, REAL service and that really fast and absolutely uncomplicated. It took place after Mail inquiry on the following day a telephone recall and unsolicited the offer for a free exchange of two trap detectors which have spun times. That's what I call really customer-friendly service, which also leads to customer loyalty. In my experience, this is very rare in the profit-maximizing desert that is the Internet. Please keep it up!  Hermann B.
---
...after I had a Trapmaster Professional Neo from you for a few weeks for testing, I ordered and received five more due to great satisfaction. Advice, support and handling went perfectly. As an academic desk worker, I need caring support especially with technological novelties. Everything works out perfectly, thank you very much! Axel Sch.
---
Works as described and reliable with the tilt sensor on my suitcase trap. Nice that there is no cable to lay. Only the magnet should not be forgotten for settings at home or deposit it immediately with the trap. Nice would be a slightly smaller housing and possibly modularity, if but once the release by reed contact seems more useful. So you have to get the Pro Classic [Note : means the TRAPMASTER Professional Standard] if necessary. Lars S.
---
Great! Everything included that you need to get started with the trap detector. Martin M.
---
Thanks to the new trap detector, it is also possible to effectively carry out trapping in remote, difficult to access areas. The first 4 stone martens have already been caught in the newly installed concrete pipe trap and promise good catches in the future. The detector reacts absolutely trouble-free, the battery life is remarkable. Richard S. from L.
---
Have three Trapmaster trap detector in use and am generally very satisfied. In addition to a time-consuming professional activity, I would otherwise have no way to set the trap catching! Commissioning and battery life certainly distinguish the trap! Installation with the combination trigger is simple and trouble-free! - Manuel from Upper Austria
---
I am very satisfied with your trap detector. The commissioning, the mounting in the trap and the settings for the desired reporting form of the trap detector are very simply designed and easily possible without special knowledge on the basis of the good and detailed instructions. I mounted the external antenna on the lid, the reed contact is mounted on the right flap (photo) and the trap detector itself is on the right control flap. The battery itself is great, I have been recharging it every 3 months, although there was still plenty of capacity at that point. I personally find once a quarter I can recharge the battery, I don't have to wait for a message to recharge.
I printed out the user manual and put it laminated with in the trap. This was actually not necessary, because I did not need the manual after commissioning.
All catches and the daily message from the Trapmaster were reliably reported to me. At first, of course, I suspiciously checked daily whether the device really works properly. But it does! This has led to the fact that I no longer check daily what is with the trap. It is very pleasant to be able to rely 100% on the device.
I can recommend the Trapmaster with a clear conscience to every trapper! Otherwise you are never so fast with a catch, because you can go directly with the catch message in the morning to the trap. Who would like and can sleep badly, which can get up naturally also at night directly... After my experiences so far, I will equip still further traps with it. In summary, the Trapmaster is not to be compared with converted cell phones, which usually have some weaknesses, are cheaper in the purchase, but in operation and reliability, the TRAPMASTER has convinced me completely. - Karsten K., Saxony-Anhalt
---
I use different systems of trap detectors, but the TRAPMASTER is in my eyes the best I have. I can only program the other systems myself to a limited extent. For example, if the call number changes, I have to send the device in. This is much easier with the Trapmaster.
Very easy and understandable for everyone to operate and set. Top price/performance ratio. All other systems I use were significantly more expensive.
The assembly was, thanks to the very good manual, very simple and the start-up very easy. The combined trigger works perfectly and absolutely reliable.
The battery lasts a very long time. Have since commissioning in early October still 100% battery power. The status messages, with me every 12 hours always come, very reliable at the same time.
I recommend the TRAPMASTER to all trappers. If I buy new traps, the TRAPMASTER will be used in any case. On the attached pictures you can see how I mounted the TRAPMASTER. I mounted the detector in an IP 65 sealed plastic junction box from an electrical supply store to make unauthorized access more difficult. I have no problems with reception. - Bernd H. from Nettetal
---
The trap detector is absolutely reliable. Power consumption is good. Still have 60 percent battery power from the first charge of 7/14. Each SMS also costs only 5 cents. Simply user friendly! - Thomas K., Osnabrück
---
I came across the TRAPMASTER during the prototype phase, as I was not satisfied with the existing solutions on the market either due to a lack of reliability or too high a price. In my hunting area, the TRAPMASTER trap detectors have now been in continuous use for several months. The functionalities and the quality of workmanship meet exactly my requirements regarding robustness, ease of installation, reliability and especially battery life for use in the field.
Since I myself am on the road a lot, I also use the possibility of simultaneous alerting of another hunter who represents me if I should not be fast enough on the spot. This was particularly important to me.
The battery life is really impressive: I have 2 devices continuously in the field since March 2015 and the battery is now at the end of October still at 60% runtime. I am curious to see how this works over the winter.
I have now attached the devices to a wide variety of trap types - grid traps, tube traps, box traps and box traps- see photos. The system is also suitable and usable for artificial construction due to the demolition magnet. My user opinion may sound very idealized now, but I was actually looking for exactly such a system. Before that, I experimented with various sautels, converted SmartPhones and even with self-construction based on Arduino boards. - Dr. Andreas A., St. Pantaleon, Austria
---
As a co-tenant in a small game area (ca.1300 ha) I practice the predator hunting. Here BWRF and marten bunkers are used, which are mostly equipped with trap detectors. Thus, I have the advantages and disadvantages of trap detectors from different manufacturers in the price range of 200 -270 euros can collect. Here I must say that none of these devices could convince me and I have registered as a pilot customer with TRAPMASTER, where I could bring my experience or how for me a trap detector "must" work.
The company EPV Electronics GmbH has developed a solid trap detector that really convinces me.
The commissioning of the Trapmaster is very simple, open the lid "without" tools, connect the battery  and it is ready, with a good battery performance, in operation.
The Trapmaster is a really reliable trap detector with excellent radio technology, it still works top where other of my trap detectors fail.
I have found with Trapmaster the right trap detector for me!!!!! - Stefan K. from L in Oldenburger Münsterland
---
Basically very satisfied. Good, robust, safe , easy to use. I do not have much experience with other trap detectors, but: the commissioning, once you have done it, easy... the configuration / setting of reporting options: very simple. Installation at the trap....depends on the type of trap, but basically not difficult.
The combination trigger: very clever, safe and reliable. The reliability: if you have net, very good. The battery lasts as described, only the charger does not indicate when the battery is full (note v. manufacturer: this was a problem with component tolerances in some of the first chargers, in the meantime fixed).
Unconditional recommendation for other customers. Currently TOP price-performance ratio. - Customer from Melle
---
One of two is installed. Works well and battery lasts quite well. The workmanship is great. Instructions also fit well. Will definitely buy two more. Even if the price is high, I still get a super solution. - Martin W., Ruhstorf a. d. Rott
---