In order to make monitoring all types of traps as simple and convenient as possible, the TRAPMASTER Professional is available in two versions:
Standard

with dual-use sensor at 1.60m cable.
Go to product >>

Neo

Triggering via integrated inclination sensor or pull-off magnet. Without cable.
Go to product >>





Version Standard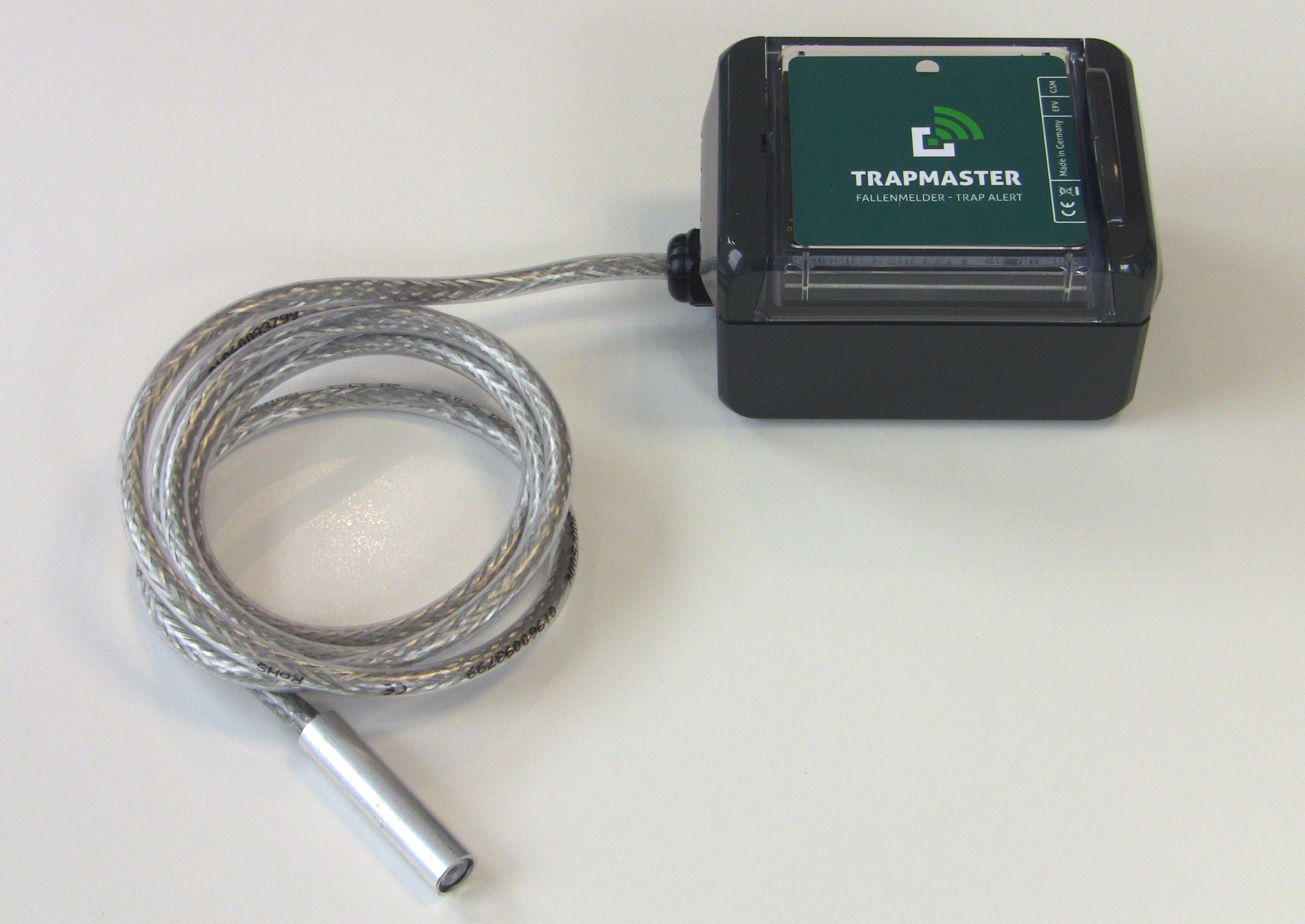 This is the popular & proven version with the dual-use sensor at a 1.60 meter long cable. This trap alert allows a simple and complete electronic monitoring of the trap up to the moving mechanical element (door or slide).
The dual-use sensor can be used as
a non-contact proximity switch (suitable e.g. for wooden box traps)

or as a pull-off contact (suitable for many concrete pipe traps).
Advantage 1: You can mostly do without the use of threads and metal strings, or keep them very short. This eliminates this source of error (a jammed or gnawed thread would otherwise result in the trap alert becoming "blind" -  which could result in undetected catches).
Advantage 2: The device can be installed hidden and protected - e.g. in a protective housing (see below). Short wastewater pipes with suitable end pieces (from a DIY store) or housings such as cash boxes are often suitable. Only the cable is then led outside. The device is well protected against theft and prying eyes. The trigger cable is designed to be almost bite-proof and protected against rodent bites. Should damage nevertheless occur, the trap alert evaluates this as a trigger and generates a wanted (false) alarm thanks to the electrical opening principle. This means that the trigger chain is always fully monitored. 
Advantage 3: When installed as a non-contact proximity sensor, the trap monitoring is always automatically activated when you reset the trap. Attaching the magnet can never be forgotten - no user interaction is required.
This version is particularly suitable for monitoring box traps and for certain concrete pipe traps without enclosure (sensor mounting on the slide of the concrete pipe trap). See application examples below.
Version Neo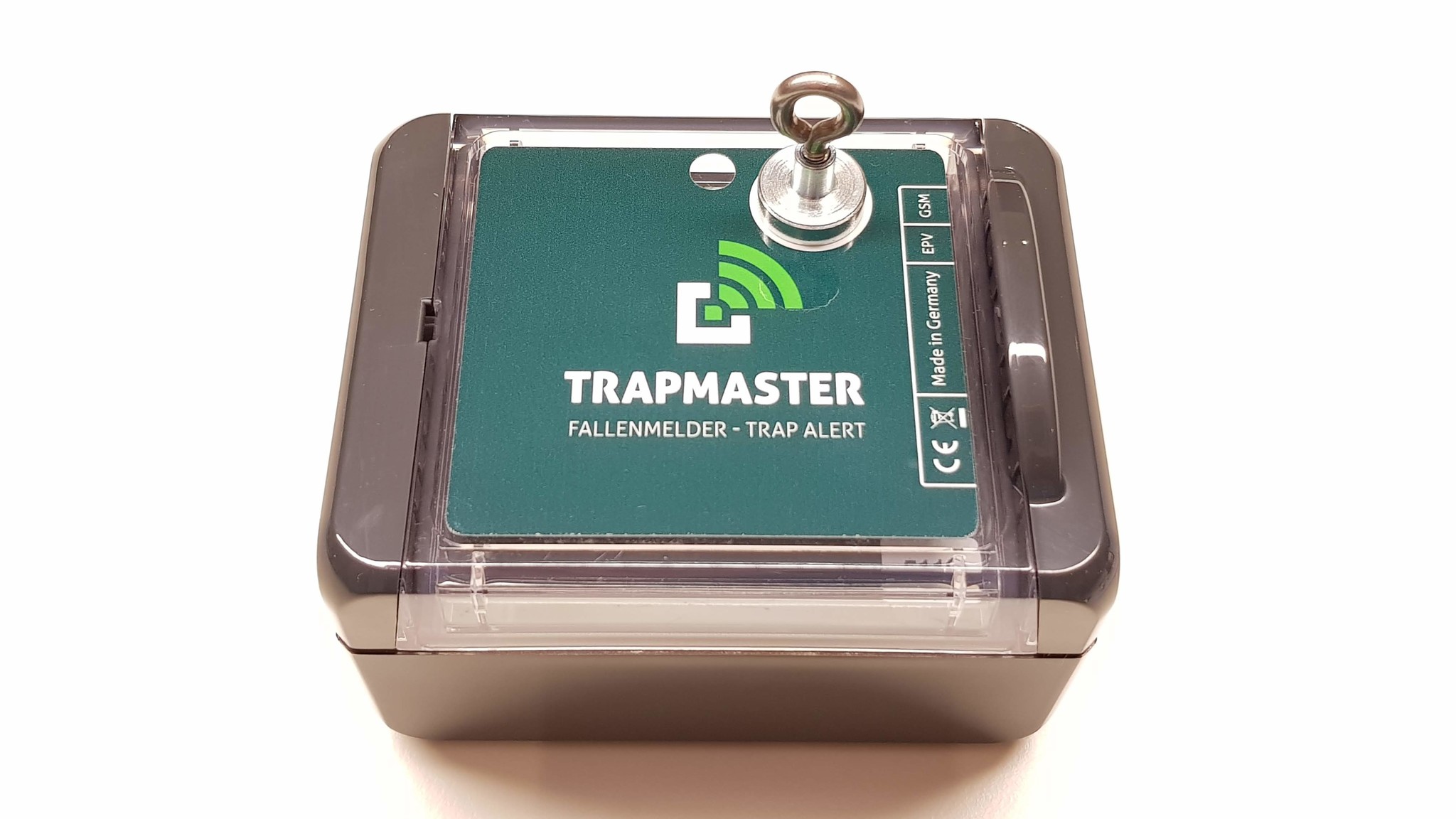 For applications in which the cable of the "Standard" version interferes. There are also traps in which triggering via inclination works more elegantly, e.g. suitcase traps.
The TRAPMASTER Professional Neo can either be triggered
via an internal magnetic contact (magnetic tear off the housing) or

via the integrated inclination sensor.
You can set the desired trigger type in the individual device overview in your online administration.
In incline mode, you can also set the desired trigger angle between 3 and 30 degrees. Otherwise the operation of the two versions is identical. For further information open additional user manual
The "Neo" does not have a sensor cable, which facilitates the use of an openly accessible mounted trap and eliminates a potential source of interference (e.g. cable bite by nutrias or raccoons).
The "Neo" is ideally suited for traps that have a significant change in inclination angle (e.g. "Kofferfalle" or nutria and racoon traps like "Trapper-Neozoen"). In addition, it is predestined for concrete pipe traps with a lockable enclosure or little space (such as the "Krefelder Fuchsfalle") or highly bite-prone installations.
Application example "Standard" 
Use as a non-contact proximity switch:  

Proximity switch and magnet are attached to the trap in such a way that both are close to each other when the trap is set and are permanently separated from each other when the trap is closed. Here, monitoring is activated automatically when you set the trap:

Use as a pull-off magnet:

When the trap is closed, the magnet is torn off the sensor via a thread or metal string rope. To reset the trap the magnet must be reattached manually:
TRAPMASTER Professional in short wastewater pipe, sensor is fed through the lid to the outside (wastewater pipe not included):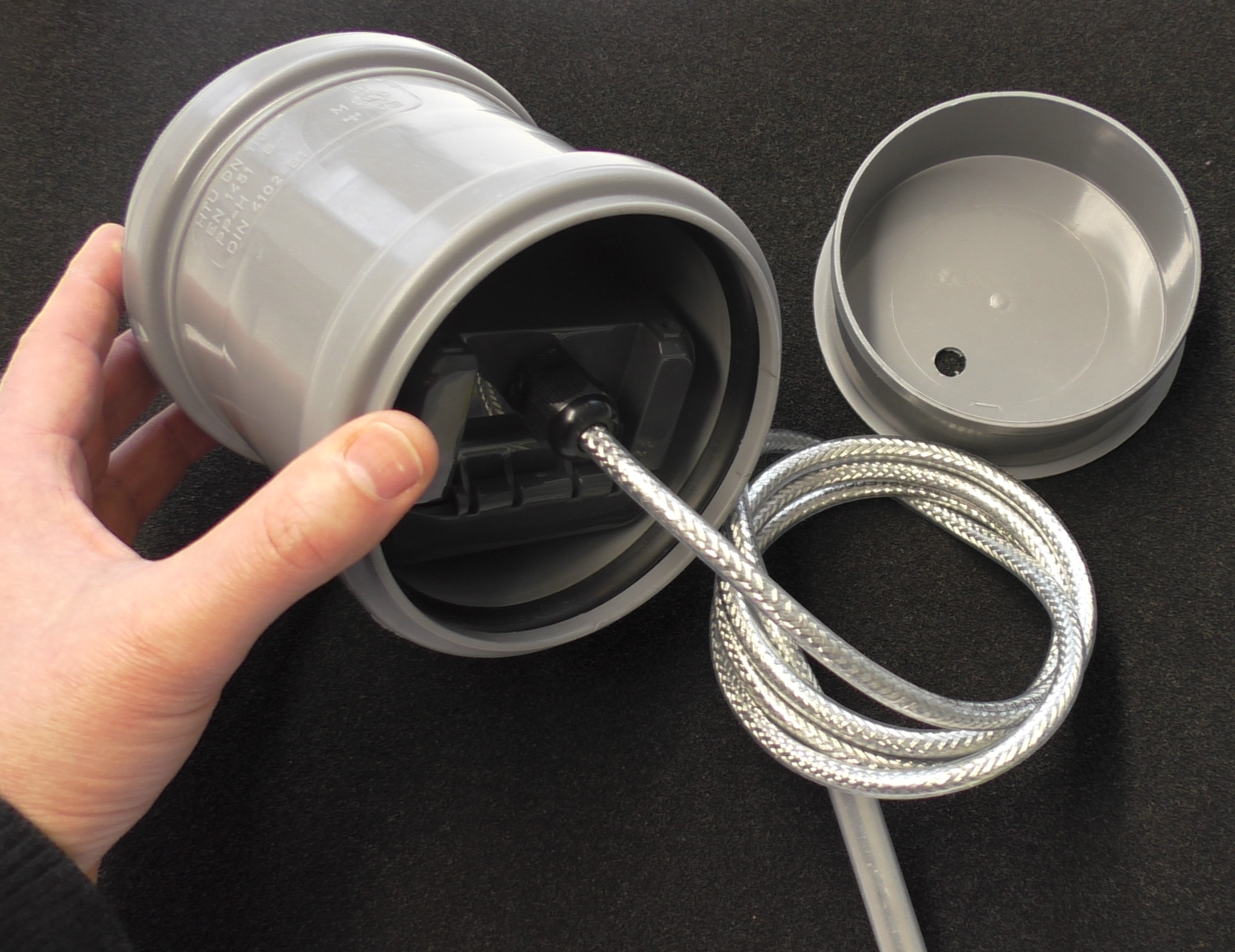 Application example "Neo"
On "Kofferfalle" (mounted on the lid, covered by a tarpaulin):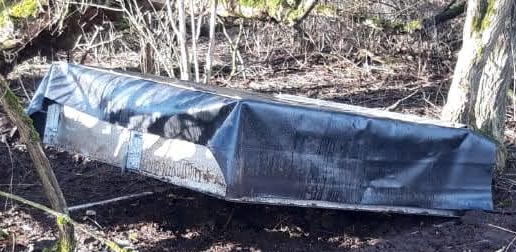 Mounted on racoon and nutria trap "Trapper Neozoen" by RWO Melle (Trapperprofi.de)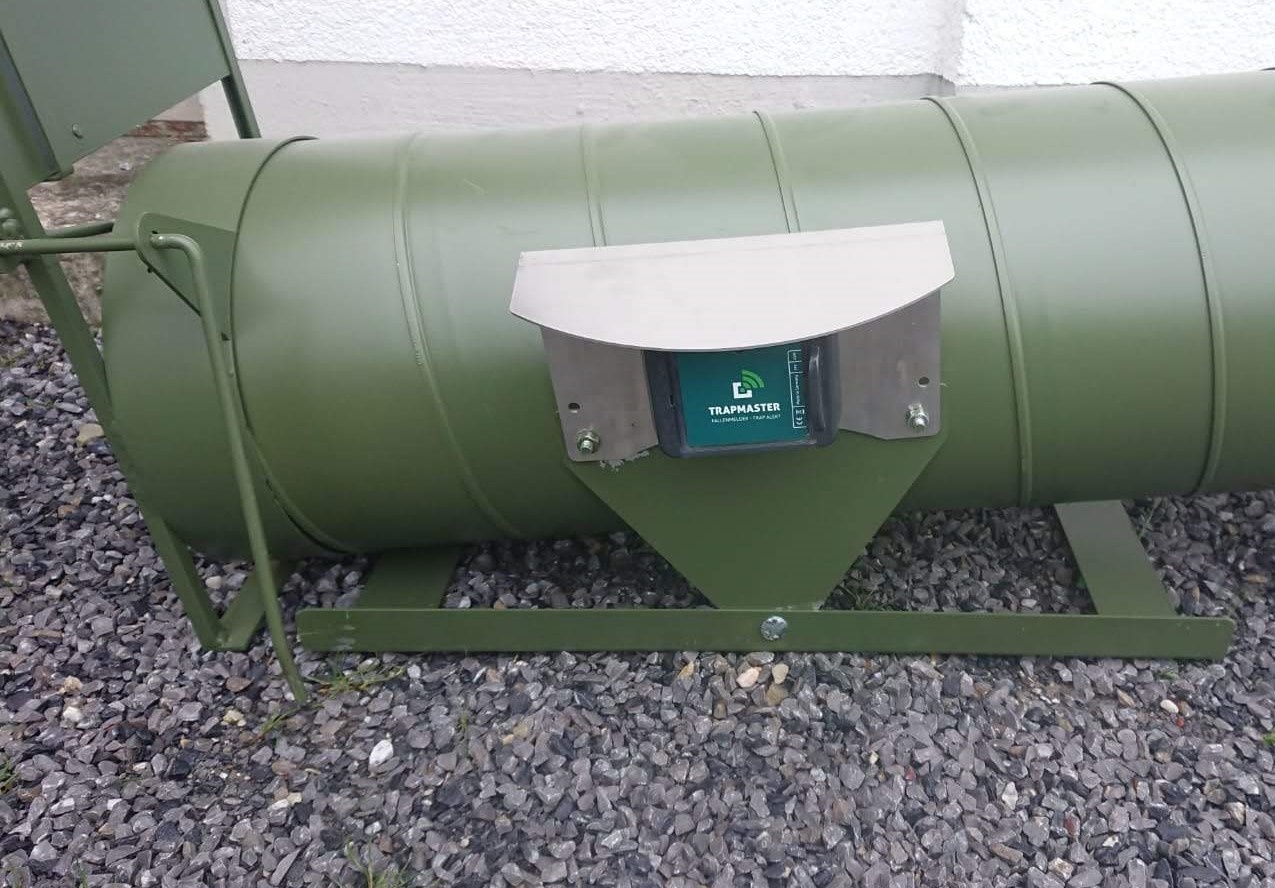 Next: State of the art radio technology for the most reliable communication